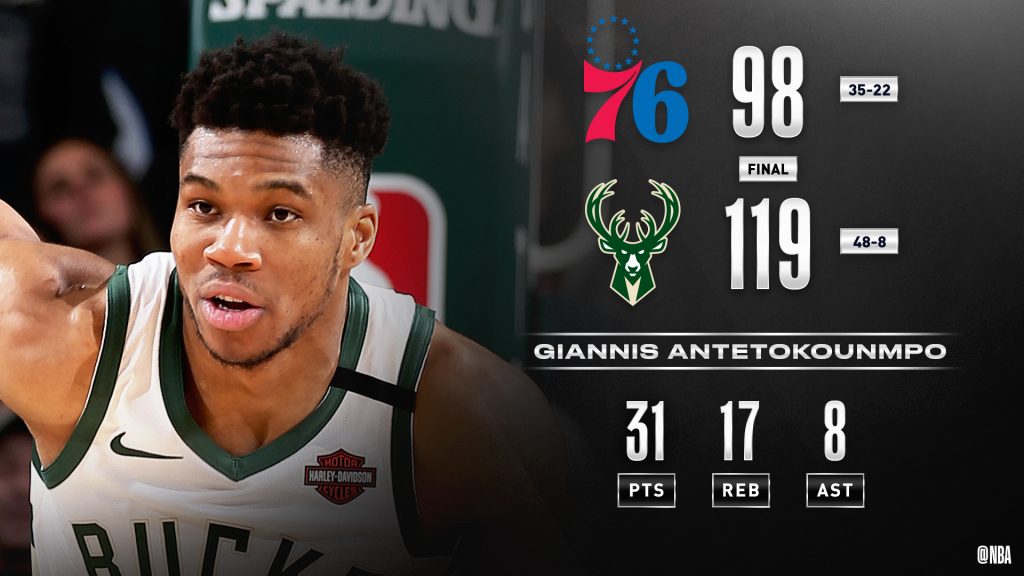 Bucks wins 98-119 76ers in a comfortable game of ring contenders
We could talk about Giannis' physicality, field goal percentage (35%-52%), assists (17-35), rebounds (43-57); but the main difference today, and during the whole year, between these two contenders is activity. While Philadelphia reacts with spasms to the game situations, the group from Wisconsin achieves a highly automated rhythm in offense and defense, that allows him to impose the cadence that best fits his characteristics: the above mentioned physicality mixed with good positioned exterior shooting
Of course this is not a surprise in a team trained by Popovich's disciple Mike Budenholzer. The word "relax" is not in his dictionary. You can feel it in their faces, their reactions and even in the activation minutes liturgy right in the changing room tunnel just before the game; with an impersonation of WWF fights.
Philadelphia only could leverage the match in very particular moments during the first half, when they were able to find Simmons and Embiid in interior positions. After 5 minutes of play, the Australian had to go to the locker room with a back injury and did not return, which was just too much for the team from Pennsylvania. Differences around 10 points until mid 3rd quarter converted into 20 by the end of the period, having a fourth one just to give minutes to the bench roster.
No relevant changes in the standings, with Milwaukee leading the league and Philadelphia maintaining the 5th position in the East. Following weeks will be critical for the 76ers to recover the chemistry that would allow them to face the playoffs with minimum guarantees, and to check if Bucks assets work so well in the postseason.